Stainless Steel Wire Mesh & Ultra-thin Stainless Steel Wire Mesh for Printing Screen
Peace Wire Mesh Works produces full range of stai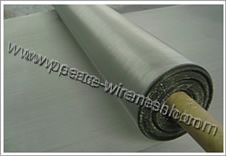 nless steel wire mesh and stainless steel wire cloth in standard listed below. Special size and specification like super-thin stainless steel wire mesh for printing screen are also available according to customers requirement.

Material for weaving stainless steel wire mesh ( wire cloth ) is divided into Type 304, Type 304 L, Type 316 and Type 316 L. Type 304 is often referred to as "18-8" ( 18% chromium, 8% nickel ) with the basic stainless alloy mostly commonly, utilized for wire cloth weaving. It withstands outdoor exposure without rusting and resists oxidation at an elevated temperature up to 1400 Degrees Fahrenheit.

Type 304 L is very similar to T-304, the difference being the reduced carbon content for better weaving and secondary welding characteristics.
Type 316 Stabilized by the addition of 2% molydbenum, T-316 is an "18-8" alloy. It has better resistance to pitting corrosion than the other chromium-nickel stainless steels where brines, sulphur-bearing water or halogen salts, such as chlorides are present. A valuable property of T-316 is high creep strength at elevated temperatures. Other mechanical properties and fabricating characteristics are similar to T-304.
Type 316 L is very similar to T-316, the difference being the reduced carbon content for wire cloth weaving and secondary welding characteristics.
General Use: Stainless steel wire mesh, with its excellent resistance against acid, alkali, heat and corrosion, find extensive uses in processing of oils, chemicals, food, pharmaceuticals, also sorting and screening of solid, liquid and gas in mine, metallurgy, airspace, machine making, etc.
Specification List of Stainless Steel Wire Mesh
Mesh/Inch
Wire Gauge(SWG)
Aperture in mm
3mesh x 3mesh
14
6.27
4mesh x 4mesh
16
4.27
5mesh x 5mesh
18
3.86
6mesh x 6mesh
18
3.04
8mesh x 8mesh
20
2.26
10mesh x 10mesh
20
1.63
20mesh x 20mesh
30
0.95
30mesh x 30mesh
34
0.61
40mesh x 40mesh
36
0.44
50mesh x 50mesh
38
0.36
60mesh x 60mesh
40
0.30
80mesh x 80mesh
42
0.21
100mesh x 100mesh
44
0.172
120mesh x 120mesh
44
0.13
150mesh x 150mesh
46
0.108
160mesh x 160mesh
46
0.097
180mesh x 180mesh
47
0.09
200mesh x 200mesh
47
0.077
250mesh x 250mesh
48
0.061
280mesh x 280mesh
49
0.060
300mesh x 300mesh
49
0.054
350mesh x 350mesh
49
0.042
400mesh x 400mesh
50
0.0385
Roll width: 2'-8'
Stainless Steel Wire Mesh Ultra-thin for Printing Screen: Peace Wire Mesh Works produces Stainless Steel Wire Mesh with unsurpassed precision of the mesh opening, narrowest thickness tolerance, smooth surface and depending on the mesh count, a large open screen area.
Stainless Steel Wire Mesh Ultra-thin for Printing Screen
Specification
Mesh per inch
AISI
Screen tension

Mesh per inch

Mesh per cm

mm

0.1%Res N/cm

0.5%Res N/cm

80

32

0.050

316L

20-22

15-17

200

79

0.035

316L

26-28

20-22

230

91

0.030

316L

20-22

15-17

280

110

0.025

316L

16-18

12-14

325

128

0.023

316L

17-19

13-15